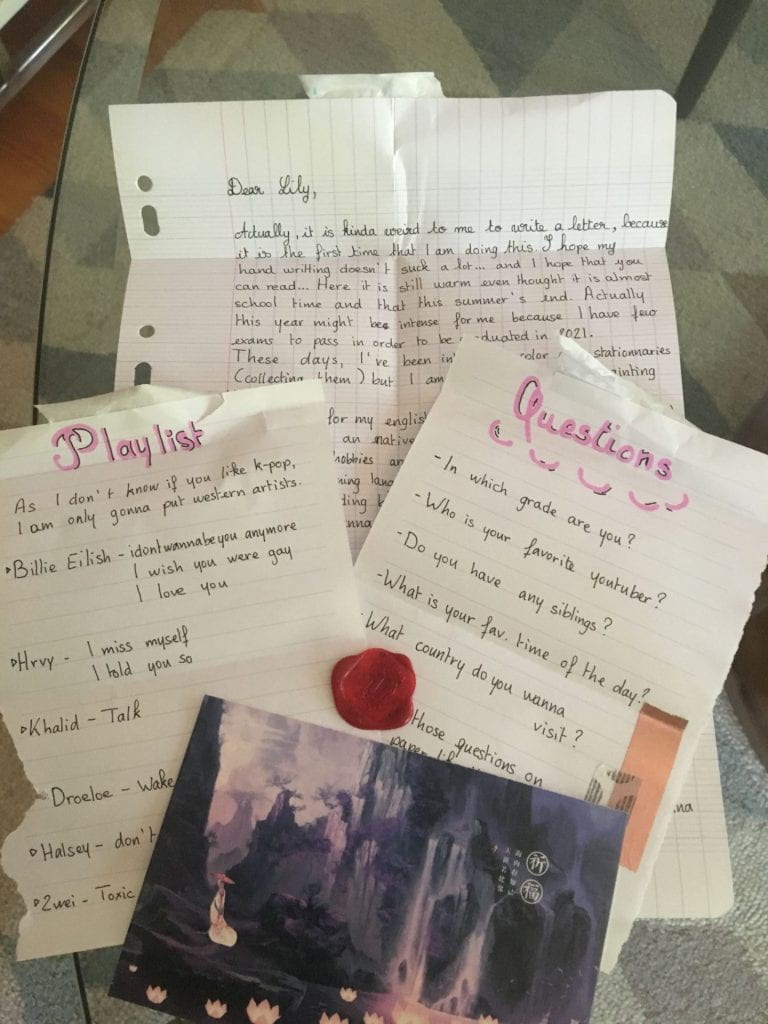 It has been ages since I've checked in on this blog. As of now, my flag counter is gone, no one reads this, and blogging at my school was over so long ago. Recently, I've found interests other than blogging, such as playing the ukulele, attempting to reduce my use of single-use plastics, and pen paling.
This past summer, I decided I'd try finding myself an out of school penpal. My French class tries doing this every year, but last year we never heard back from the school in France. With an open mind and positive attitude, I set forth on my journey to find the perfect penpal for me. What was supposed to be an hour-long process, turned into a three-week war against constant notifications. The first step for me was finding a site to reach my ideal penpal. Four years ago, I decided I wanted a penpal from Brazil (not even sure why) and ended up on this website. That phase disappeared, but the website name did not, causing me to attempt finding my french friend on this site again! The website was awful. Almost everybody was on that site looking for an internet soulmate. Lucky me, after some minimal internet research, I reached the website I knew I was looking for.
Interpals is a safe environment, where you can almost always find the right person for you. The site allows you to answer some fun questions that may help them find other users with interests similar to yours. Excited, I set up an account for myself and prepared to be taken aback by the amazingness of this site. Wrong. It took three weeks for me to find the right person to snail mail. I received messages from people in Zanzibar, Yemen, Germany, and India. No one from France wanted to be my penpal. Major letdown. So, I responded to those interested in my correspondence (politely letting them down) and waited.
After a few days, I got a message from a girl from France who shared common interests with me. Right away we clicked and soon enough exchanged social media so that we could find an easier way to communicate. As great as Interpals is, their email system is a drag because of retyping your code or whatnot. Of course, I didn't know my french penpal well (obviously), but after some looking at each other's pages and recognizing a small, strong, bit of trust, we exchanged addresses. Big move, I get it. It sounds a lot worse when writing it than it did in my head.
It took around two weeks for the letter to come. I'd been waiting for it every day with a small spark of hope dying within me each day the mailbox was empty. When the letter came, I knew right away what it was. Of course, maybe the french postage sticker could've given it away, but the beautiful brown envelope with rose gold washi tape stuck out like a Nemo in a sea of Dorys. My pen pal Pinterest board dreams were coming true. This letter was beautiful. My penpal put full effort into this letter for me and you could tell. She sent her handwritten letter (on French notebook paper), a beautiful postcard, a small sheet of her questions for me, and a sheet of songs she was listening to recently. My favorite part of her letter was the wax seal on her envelope, which you could tell was all her because of the intricate 'N' stamped into the once-hot wax. Getting this letter was truly exciting, especially to think that, in my hands, I was holding something that touched the land of France.
I highly recommend pen paling. It takes effort, intricacy, and patience, but if you are able to put all that in, it'll be a great experience. I cannot wait to send my letter all the way to France!