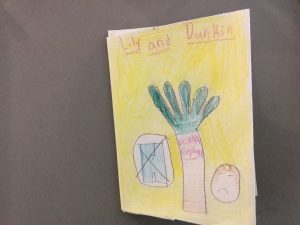 This book is recommended by Lily Zellman, President, Author, and Musician. The reviewed book is Lily and Dunkin, written by Donna Gephart. The book is a total of 352 pages.
           Tim has always felt unsure about "himself" and "his" love for dresses. Dunkin has a bipolar Disorder. When the two meet, they combine to be an amazing duo. This novel about to unsure eighth graders is intriguing, inspiring, and unique. The aspects of Tim dealing with family acceptance and Dunkin feeling alone without courage, make this novel one you will always remember.
When I finished, I was absolutely shocked. I'd never read such a powerful novel. You should read Lily and Dunkin because of its diversity and empowering message. My favorite quote is, "When you are brave and honest, you make it easier for the next person."- Dunkin. You would love this book if you like George! I cannot put my passion for this book into words!
Thank you for reading this! I really hope you decide to read this amazing novel!