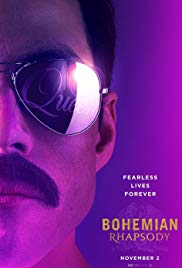 I've never been so inspired that I might cry. Bohemian Rhapsody is a biopic about the band Queen, primarily focusing on Freddie Mercury. I saw this movie the same day I am writing this post, due to how touching and inspiring the film is. Fun fact: Today is November 24. Freddie Mercury passed away this day 27 years ago. Ok, let us get started with my review.
One, the acting. Wow! All the actors looked exactly like the band members they were portraying. Sister shook. Specifically Rami Malek, Ben Hardy, and Gwilym Lee. Aka, Freddie Mercury, Roger Taylor, and Brian May. Their acting was on point. I was so moved and I really felt like I was watching the original band on screen. The acting, music, and effects made me feel as though I was there in the 80's with Queen.
The music. If I weren't in a theater with maybe 30 something adults, I would be dancing. I was tapping my feet, bopping my head, and lip-syncing along. Queen's music is unlike another. Iconic. Memorable. Unique.
Freddie. He must have been such a wonderful person to have in one's life. The way he was portrayed really gave me a sense of how he really was. I would describe Freddie Mercury as someone who was here to do something and was gonna do it. He didn't care one bit what anyone else thought. He was going to be who he was and no one could change that. He really seemed to carry to the beat of his own drum. He had his ups and downs, but was always focused on being who he knew he was. Yes, Freddie really was a jerk at times, but in the end, that's how many famous people were back then.
Bohemian Rhapsody should only be seen if you're a mature 12 year old or 13+. This film is intense, but definitely a must-see. There was plenty of alcohol use and smoking. It also deals a lot with Freddie's sexuality, which is certainly a heavy subject. There were a few inappropriate parts, but I didn't find them too terrible. (Wow, I'm like the new Commonsense Media.) You NEED to see this inspiring, touching movie at some point in your life. Thanks for reading. Below are some quotes from the movie I found special.
John Reid: So, tell me. What makes Queen any different from all of the other wannabe rockstars I meet?

Freddie Mercury: Tell you what it is, Mr. Reid. Now we're four misfits who don't belong together, we're playing for the other misfits. They're the outcasts, right at the back of the room. We're pretty sure they don't belong either. We belong to them.
Freddie Mercury: We can be. We believe in each other… that's everything. We are going to do great things. It's an experience – love, tragedy, joy… it's something that people will feel belongs to them.
Freddie Mercury: We're family. We believe in each other. That's everything.
-Lily